Giraffe Razor Extension Handle -Eye Opener TV- Does It Work?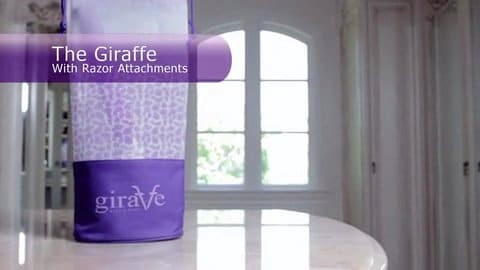 The Giraffe Razor Extension Handle was on Eye Opener Tv,  A Dallas, Texas morning news, comedy and variety show.  Their "Does It Work?" (a product review) segment put The Giraffe Razor Extension Handle  to the test. The Giraffe has two Universal  Razor Attachments, small and large, that easily accommodate the most popular disposable razors on the market today. Simply snap the desired attachment onto the head of the handle and press the lever to insert your razor. Release the lever and your razor is securely attached. The telescoping handle extends your razor an additional 15- 20 inches. The Pivoting head  can be  easily rotated to a 30°, 45°, or  90° angle. Many women find that they lose their sense of balance when they are pregnant, so shaving their legs can be a challenge. With the Giraffe, they can easily stand in the shower and shave their legs without the fear of falling. "I was very skeptical at first," stated Hope during the interview. " I was afraid it might slip and cut me, but really I didn't run into that problem. It's very safe. I haven't been cut once. And, it's an amazing product.
Pros:
Small and Large Attachments for Disposable or Reusable Razors
Hangs in the Shower for Quick Access
Light Weight
Easy Setup
Perfect for People with Back Problems or if you Lose Your Balance Easily
Easily Adjustable
Waterproof
Cons: None  Score = A+
Thank You, Sean and Hope!