How Women Who are Pregnant Shave their Legs
Giraffe Razor Extension Handle In the News
Click Here To Watch Video
Jan. 26, 2015. 06:09 PM EST
If you missed the live interview on January 16, 2015, with James Smith, Co-founder at Giraffe Bath & Body, on the PlayMakers Talk Show; Then follow this link to hear James' interview with PlayMakers Talk Show Host Steve Klein.
Listen to Michael Garfield, THE HIGH TECH TEXAN  interview James Smith, Co-inventor
How Women Who are Pregnant Shave their legs
How Women Who are Pregnant Shave their legs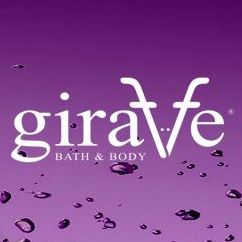 DALLAS, TX (Nov. 11, 2014) – When James Smith, a former firefighter/paramedic, and wife Kathryn Wilkinson-Smith, a registered nurse, partnered with longtime friend Jeff Sacks, they set out to design a women's shaving accessory that would revolutionize the shaving world.
The goal: To develop a razor extension handle that would specifically help women who were unable to shave their legs due to the increasing discomfort from symptoms associated with the second and third trimester of pregnancy. The Result: The Giraffe Razor Extension Handle, designed to customize the length and angle of a disposable or reusable razor.
For pregnant women, symptoms such as weight gain, lower back pain, impaired balance and a decrease in visual fields make shaving difficult if not impossible with a short-handled razor. Bending at the waist or balancing on one foot is uncomfortable and precarious. As a consequence, the majority of these women just simply give up on shaving altogether or become dependent on a loved one or caregiver to help them carry out their daily self-care routine.
"This is unfortunate because, at this point, it's not always about having smooth, silky legs to look and feel beautiful," said Kathryn. "It's about comfort, safety and being able to function independently."
"It was our original intention to create the Giraffe for pregnant women," said James. "But after researching the current market, we discovered an unmet demand for a product like ours for women limited in flexibility and mobility. These limitations or disabilities could stem from sports injuries, post-operative procedures, chronic medical conditions or some other unforeseen circumstance."
The Giraffe is perfect for women who may be experiencing:
• Shoulder, neck or back pain
• Changes in their center of gravity due to weight gain during pregnancy
• Limitations in flexibility and mobility due to post-operative procedures like total hip and knee surgery
• A decrease in range of motion due to arthritis, degenerative joint disease or sports injury
• Limitations in mobility due to small showers, RVs, cruise ships and college dormitories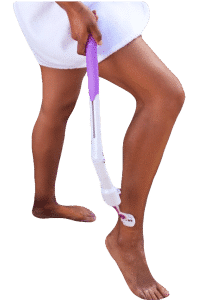 The Giraffe features a telescoping handle that extends the length of your razor an additional 15-20 inches, a benefit that virtually eliminates the need to bend at the waist or put yourself in an awkward position in order to shave those hard-to-reach areas. The Giraffe's pivoting head easily rotates to a 30, 45ﹾ or 90ﹾ angle, maximizing your flexibility, another added benefit that decreases the risk of slipping or falling in the shower.
In addition, the Giraffe's no-slip grip is made with a rubberized finish to help provide the control needed to shave your legs safely.
Customizing the Giraffe for a safe and comfortable shaving experience is easy: Simply choose one of the universal attachments that best fits your disposable or reusable razor. The small attachment fits most men's razors, and a large attachment accommodates most women's. After locking the razor into place, rotate the pivoting head to a preferred angle and extend the telescoping handle to the desired length.
The Giraffe's benefits include:
• Safety – decreases the risk of falling
• Comfort – minimizes lower back strain
• Privacy, independence and time management
• Broadens options for wearing comfortable clothing – dresses, shorts, and swimsuits
• Positive self-image
• Improve the quality of life
"The Giraffe is ideal for women recovering from total hip surgery or who have debilitating back pain or arthritis," said Sacks. "We're proud to know that our product is helping so many women shave comfortably despite facing physical challenges, and we look forward to introducing the Giraffe and its benefits to millions more.
As Seen In Arthritis Today Magazine!

Does It Really Work?
The Giraffe promises to help make shaving easier, and they say it really helps if you're pregnant or have trouble leaning over, but does it work?
"We're putting it to the test!"