Winter Skin Care and Shaving Tips
Brrr. Winter and Dry, Flaky Skin Approach…
Let's face it, skin care tips and how to have glowing winter skin articles abound this time of year, and if we are honest one or two good habits may get adopted into our routine. We have gathered what we believe to be the best (and easiest to follow) tips and recommendations to help prevent the dry, flaky and itchy skin of the winter season.
Easy to Follow Skin Care Tips
Exfoliate! Yes, you've heard it before – but what you may not know is that you should only exfoliate a couple times a week. Avoid harsh scrubs, instead opt for a soft bath buff and maybe a simple salt scrub. Be sure to moisturize afterward!
Layer! We all know how important it is to moisturize, and during the winter months we should use a good moisturizer 2 to 3 times a day. It is also helpful to layer your moisturizer. First, slather on a good (your skin should feel like you applied something even hours after application) moisturizer. Then apply liberal dollops of a simple petrolatum-based (think Vaseline or even mineral oil) on trouble spots like knees, heels and elbows.
Humidify! The heavy use of indoor heating sucks the moisture right out of the air and your skin! Invest in a decent room humidifier (no need to go high-end) and use it. Plug your humidifier in at night before bed and forget about it. Your renewing skin cells will thank you for it!
To Shave or Not to Shave…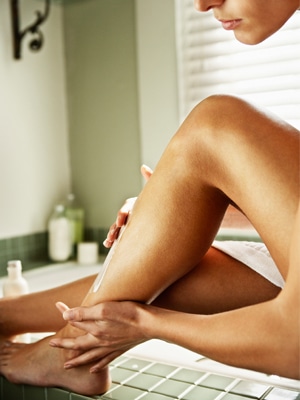 Cold weather and heavier (concealing) clothing may tempt you to take a break from shaving. However, shaving is good for more than just removing hair – shaving helps exfoliate skin too – something much needed during this skin-drying season. We recommend using a rich, luxurious shave cream like those found in our DIY Shaving Cream article.  Have a favorite recipe for a sensational shaving cream? Please share!
A few more shaving tips…
Use a clean, fresh razor with multiple blades to get a smooth, close shave. Employ The Giraffe to get clean shaves in even the hardest to reach spots!
Lightly exfoliate skin prior to shaving. Use a moisturizing cream to help the razor glide cleanly.
Shave at the end of your shower – the warm moisture of a shower makes hairs soft and plump and opens your pores.
There you have it. A few, simple tips to keep the dreaded dry skin at bay this winter. Have any tips that work for you? Share your ideas and suggestions – we would love to hear them!